Breakup Recovery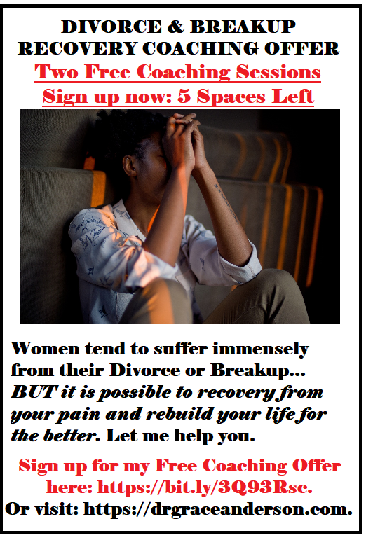 Free Coaching Offer – Two Sessions-Limited time.
You are welcome to avail yourself of my Free Coaching Offer of Two Sessions. The limited is limited on this offer and it will be on a first-come-first-served basis. Five lucky ladies will have this free offer from me.
Nothing is more painful than hearing these words from partner: "I want to move out…and I will be filing for a divorce", Or: "I've met someone else, and I'm moving in with her", etc. So, your heart is broken. What to do next?
Contact me and we will work together to help you heal and move on from the pain of your breakup or divorce.
Click the link below to sign up for this free offer of Two Coaching Sessions. Places are limited, so, sign up now.
 BOOK YOUR FREE COACHING SESSIONS HERE.